Join as a TCZ Privilege Card member to enjoy




membership privileges now!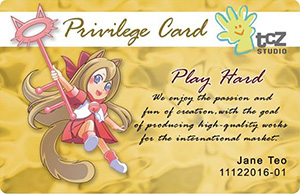 S$36 
(3 years membership)
Regular Privilege
Terms & Condition
Other Information
Regular Privilege
10% off retail price at TCZ Studio and Official Website.
Enjoy 15% discount during your birthday month. 
Free Delivery within Singapore only.
E-Newsletter with upcoming news , products or events.
Terms & Condition
TERMS OF USE
Privileges are not valid for purchases of gift vouchers, nett-price & discounted items.
Privileges are valid only upon presentation of your card to the sales department before payment at TCZ Studio.
Unless otherwise stated, the card cannot be used in conjunction with other cards, on discounted items or during selected promotions.
The privileges, terms and conditions may be amended or withdrawn without prior notice at the sole discretion of TCZ Studio Pte Ltd.
NON-TRANSFERABILITY
The TCZ Privilege Membership Card is intended for individual and/or personal use and is strictly non-transferable.
Members must produce identification as and when required.
DISCRETION
The TCZ Privilege Membership Card is issued by and remains the property of TCZ Studio Pte Ltd.
TCZ Studio Pte Ltd reserves the right, without prior notice, to decline the issue, re-issue, renewal or replacement
of a membership card and to suspend or terminate the right to use the card.
Other Information
LOST OR DAMAGED CARDS
Please notify us  immediately for replacement of card by email.
A replacement fee of S$4.00 (7% GST inclusive) is chargeable. Please pay by internet banking , paypal or cash payment at TCZ Studio.
MEMBERSHIP RENEWAL
An email will send to you for renewing your membership card details one month before expiry.
You are required to fill in only your Current Membership Card Number, the corresponding Expiry Date, Name, NRIC/Passport Number, Contact Number and any other information deemed necessary in the TCZ  Privilege Membership Application Form.