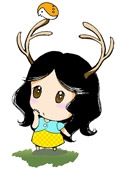 Low Jia Hui - Author and creator Of Pandora's Scar
Artist Name: Rixou
Graduated from from National University of Singapore.
Email : Pandora Scar
Facebook : https://www.facebook.com/PandoraScar
Website : http://oasis-sky.deviantart.com


Project Manager, Comics Society (Singapore).

Comix Pandora Artist, Singapore Doujinshi Group.

Artist  & Mentor , Pura ComixMag (Online Comic Magazine).

Joined Singapore Press Holdings Comics Fast Food in secondary school.

First experienced Comics production as a student reporter with




Singapore Press Holdings Comics Fast Food.

Participated in production of comics anthology ARENA Sci-Fi vol 0 in 2009.

Started creating commissions while studying Architecture in National University of Singapore.

Free lance Artist creating commissions from both individual authors and commercial companys.
• Received 2nd China- Wuhan 2012 International Digital Arts Convention Bronze Award of Excellence.
• Selected for Noise Singapore 2012 The Apprenticeship Programme (TAP) and works exhibited in Noise TAP 2012
 Showcase in Goodman Arts Centre and Ion Orchard.
Ongoing Project : PANDORA's SCAR SERIES