ComiFest, the event created by comics enthusiasts, for fellow enthusiasts, was back this year from 4 – 6 October!
Before the event, open calls were conducted for Comics artwork and Cosplay competitions,
and the 3 day public event at ITE College Central Multi purpose Hall was a record showcase of eye popping illustrations and costumes.
Visitors also got to try out comics creation and cosplay costuming at Seminars and Workshops conducted by notable industry figures,
and Competition winners walked away with amazing prizes! Here are the highlights of ComiFest 2013!
Largest showcase of local comics artworksring selected works from a nationwide competition, as well as international works from
the "China – Wuhan 2012 International Digital Arts Biennale" ( WAE 3 ). Local publications, ComixMag, Dream Walker and The Celestial Zone were also featured!
Artists selling their limited edition and hand crafted works at ComiFest 2013!
And not forgetting the Guest artists: ACAS, Ink Fusion, FSc, Miel, Sonny Liew, Ng Chuan Hock and Shaul Heymans,
who generously contributed their artwork to be part of this showcase! Thank you!!
Original Comics Illustration 1st Position:
"Little Protector" by Chuang Yu Hsin!
Illustrating categories consist of Original Comics Illustrations and Character Artwork (Fan art) categories! Congratulations to all winners!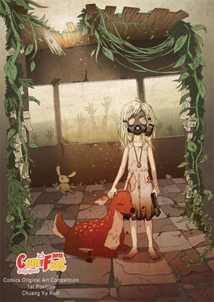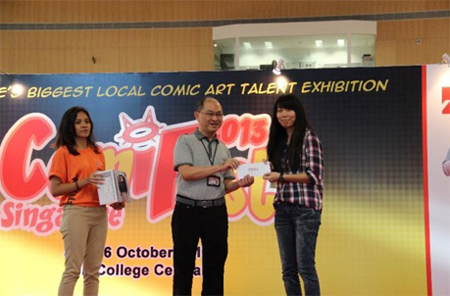 STRIFE Game and Comic preview
A Visit by the ComiFest @ Campus GameFest Guest of Honour, Mr Lawrence Wong, Acting Minister of Culture, Community & Youth
S2 Games, developers of the world first 2nd generation free-to-play Multiplayer Online Battle Arena (MOBA) Strife, unveiled Strife, to the public in Asia for the first time at the ComiFest 2013 @ Campus Game Fest! Strife was available for play, and The Celestial Zone comics series creator, veteran comic artist Mr Wee Tian Beng also revealed an exclusive showcase of the Strife comic he and S2 have been working on. Rare original process artworks for Strife were also on display!
For the first time, ComiFest features a cosplay competition! Shortlisted participants were involved in a full day photo shoot on the first day of ComiFest 2013, before leading up to the grand competition on
6 October!
The Top Male Cosplayer and Top Female Cosplayer received 500 USD cash prize and an all expenses paid trip to PAX East event 2014 in Boston, USA!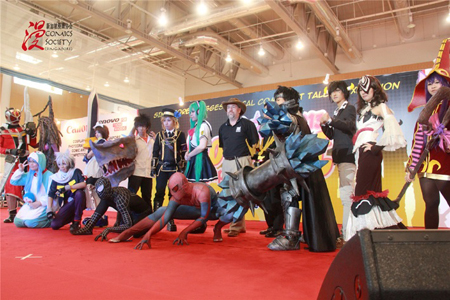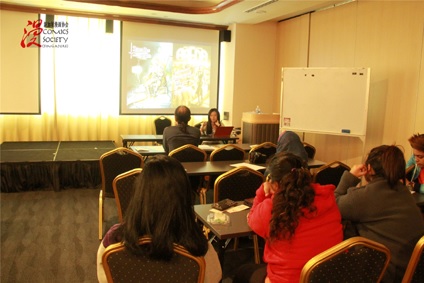 Workshops
Also a first for ComiFest, seminars and workshops were conducted, with notable industry names sharing with participants on topics ranging from their experience as professional Comic Artists, to tips to creating a comic story and the finer points of Cosplay costume making!
This was the most interactive ComiFest to date, with the addition of Comics Illustration and Cosplay competitions,
Seminars and Workshops, and even a maid café!
ComiFest 2013 exclusive giveaways! Did you get yours?
It was hard work, but everyone's warm participation made it all worthwhile!
Thank you to all who contributed, whether through submitting your works or visiting ComiFest- do look forward to ComiFest, 2014!