ComiFest2012 has successfully come to an end!
In the special third edition of this annual gathering for comics lovers,
the spotlight was on celebrating the 5th anniversary of Comics Society (Singapore).
With event launches, free giveways and up close and personal interaction with the artists behind ground breaking local publications,
it was an unforgettable event for both visitors and all of us at Comics Society.
Event Name: ComiFest 2012 @ License 2 Play
Date: 7-9 December 2012
Venue: Marina Bay Sands Expo & Convention Center
ComiFest 2012 Highlights:
Original Comics Art Exhibition
The works of artists from an impressive total of 12 countries was showcased.
Comprising the winning artworks from students of tertiary institutions to creations by veteran artists,
and featuring animation and illustrations works in addition to comics.
The exhibition was jointly produced with China's WAE3 event, and Germany's Goethe Institut.
Visitors were treated to a depth and breadth of styles and techniques of digital and comics arts. Visitors were particularly impressed by how the mediums could effectively convey subjects ranging from light hearted humor to providing an intimate view of the culture and lifestyle they represent.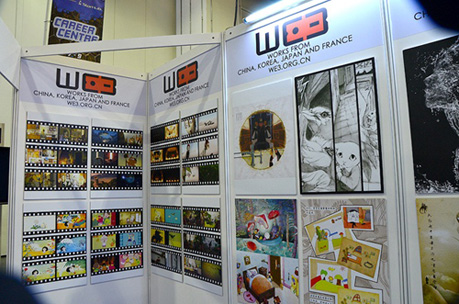 A closer look at artworks from China, Japan, Korea, France, Germany, Australia, Indonesia, Malaysia, Vietnam, Philippines, Thailand and Singapore!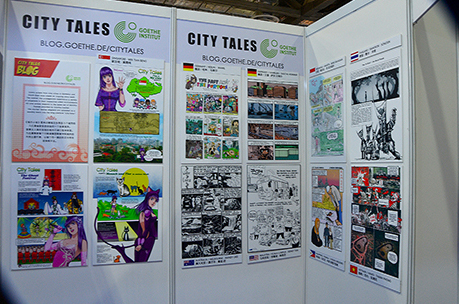 City Tales - a collaboration project with Germany's Goethe Institut.
Screening of award winning animations from WAE 3 exhibition!
In the recently concluded WAE 3 exhibition in China, Wuhan, our local artists have done us proud by bagging a total of 5 awards!
All shortlisted works also received a Certificate of Meriteach.
We were delighted to present the Certificates and Awards to the participants, among which were many students from various tertiary institutions.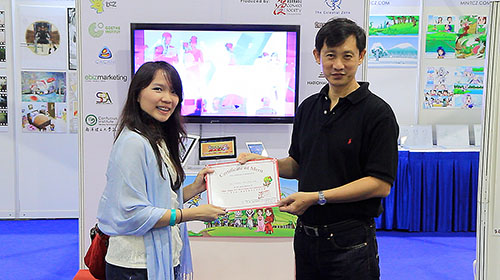 Receiving a Certificate of Merit from honored member of WAE 3 judging panel,
Mr. Wee Tian Beng .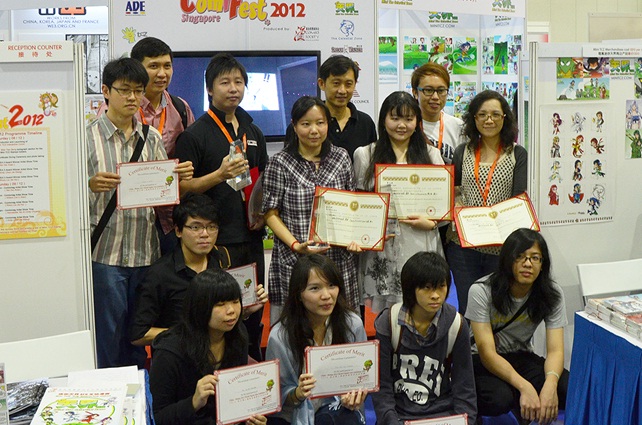 Group photo of all the winners and participants!
Live art demonstrations were conducted by artists of ComixMag, Singapore's first online comics magazine by local talent.
A few lucky participants also walked away with the unique freshly created large scale artworks
after participating in lively Q&A exchange with our event emcee.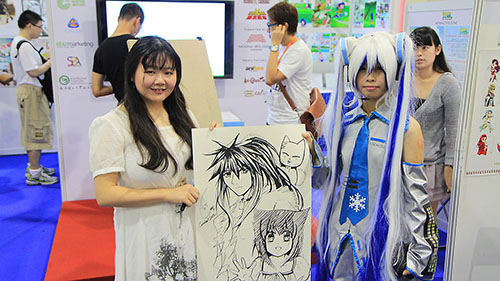 Creator of the DreamWalker comics series Yeo Hui Xuan with the lucky winner of her artwork!

The artists of ComixMag showcase their creativity further with their self produced products and
Limited print editions of the ComixMag stories!!
The public and fans of the best selling TCZ (The Celestial Zone) series got a first hand preview of MiniTCZ,
an interactive mobile app combining comics, animation and game!
Young and old alike tried their hand at battling monsters and solving puzzles at consoles at our interactive stations.
The full opening and various ending stage animations were also revealed to public for the first time at our booth's mini stage.
Showcasing the vibrant world of miniTCZ,
including rare original process artwork!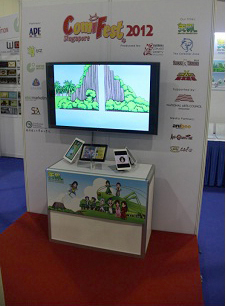 Animation screening and interactive zone.
Response was very positive, with fans eagerly looking forward to the full launch of the MiniTCZ app.
Mini TCZ animation clips debut to a captive audience.
Winners of draws conducted by Chinese paper Lianhe Zaobao and on the spot also received a limited-print Commemorative MiniTCZ stamp set and had the chance to have their stamp sets autographed by miniTCZ creator and veteran local comics artist, Mr. Wee Tian Beng. Also being given away were Comics Society's 5th anniversary booklets, which doubled as an exhibition guide.
We had some surprise guests as well, as our booth proved a popular spot for cosplayers in the area!


As always, Comifest 2012 was a great place to meet new artists and readers, and reconnect with old acquaintances.
We were happy to receive positive feedback and participation from the public, whether in participating in our giveaways
and mini surveys, and their interest in our activities.
As 2012 draws to a close, we wish all friends old and new Happy Holidays.
And do look forward to our upcoming activities in 2013!